Posted on
Name: Rogers Centre (SkyDome)
Opened: June 3, 1989
Architect: Rod Robbie
Cost: $570 Million (Canadian)
Capacity: 49,282
Surface:   AstroTurf (1989–2004)
                 FieldTurf (2005–2010)
                 AstroTurf GameDay Grass 3D (2010–2014)
                 AstroTurf 3D Xtreme (2015)
                 AstroTurf 3D Xtreme with dirt infield (2016–present)
The streak of massive love for the ballparks unfortunately ends with this post. While Toronto is unquestionably a world-class city worth your time and tourism dollars, this is not one of the gems of baseball. (The Hockey Hall of Fame is just down the street and is more than worth the price of admission.)
Rogers Centre/SkyDome is one of the modern marvels of sports engineering. Although the Blue Jays had survived a dozen seasons at the outdoor Exhibition Stadium (and the Toronto Argonauts of the Canadian Football League decades before that), it took the 1982 Grey Cup game (the championship game for the CFL) played in a driving rainstorm to finally prompt the construction of a multi-purpose dome in Toronto.
Construction began in 1986 and the building was ready in the summer of 1989. The first fully retractable dome in the world, SkyDome was (and is) a true marvel of engineering.
The three moving panels of the roof are constructed of a PVC coating over a steel roof supported by steel trusswork. They are each driven along rails, essentially by railroad engines. Another unique element to the stadium is the 350-room hotel incorporated as part of the structure, with 70 rooms overlooking the field of play. 
I have never seen a game here, but I took a tour of SkyDome in 2002, and was really struck with the anti-baseball feel I got. The roof was closed, it was the original AstroTurf field, which felt like green office carpeting laid over a concrete floor, there was bad fluorescent lighting, and the echoing of various noises throughout the building made it feel more like an enormous warehouse than a ballpark.
That being said, Blue Jays fans love this place.
I personally design all of our print releases at Ballpark Blueprints, and the (somewhat haphazard) release order has mostly been based upon what I've felt like working on next. After my less-than-enthusiastic impression of SkyDome, I really was in no hurry to do this design. But the repeated, incessant, enthusiastic requests ultimately convinced me that this is a passionate fan base that wanted to have their ballpark in Ballpark Blueprints form. So we released it, and the sales backed up the hype.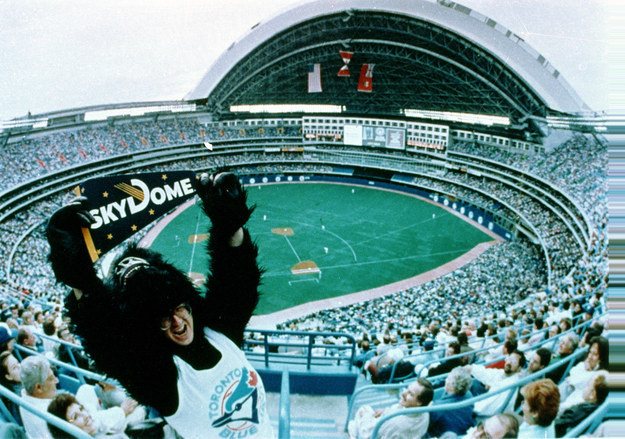 Is it my favorite ballpark in MLB? No, probably not. But I have great respect for the Blue Jays, and their fans. (Actually, just last week, a vocal uprising on Twitter convinced me that most Blue Jays fans prefer the old name 'SkyDome' to the official "Rogers Centre", prompting an exclusive re-release with the old title. You can actually find it in our "MLB" section as "Rogers Centre" and find it in the "Classics" section of our website as SkyDome.)
The original name "SkyDome" was the result of a province-wide contest in 1987. Over 150,000 entries submitted more than 12,000 names, more than 2,000 of them being "SkyDome". Kellie Watson was the lucky name drawn from the barrel of everyone who submitted SkyDome, and she received lifetime seats behind home plate to every event for the life of the stadium. Which is pretty cool.
Have you had a great experience at SkyDome? Add your favorite memories of SkyDome/Rogers Centre in the comments below for a chance to win a FREE PRINT!